Rare watches & jewellery GOLD collectables job lot silver coin diamond antiques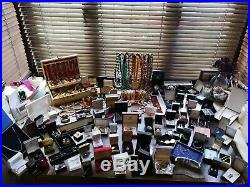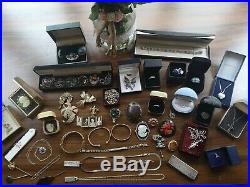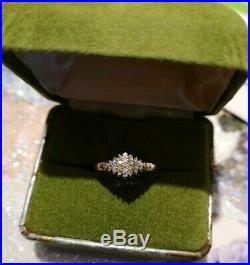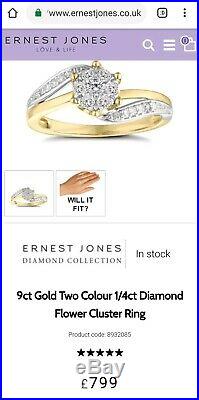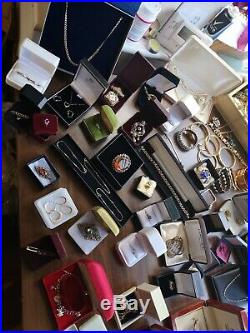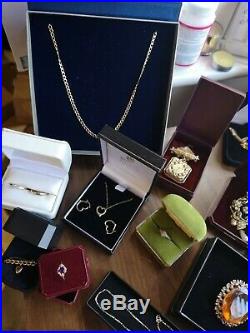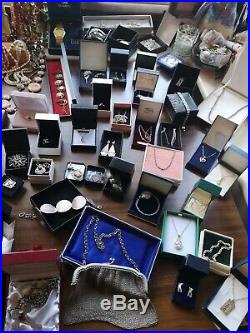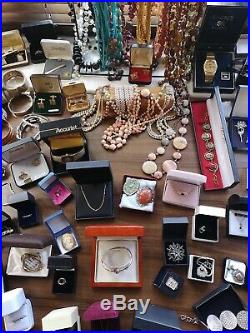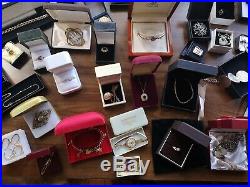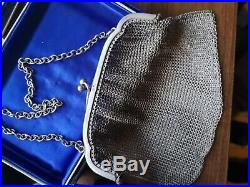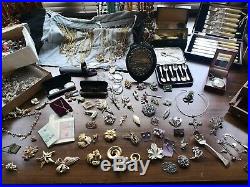 Reduced final price Here is a great joblot roughly 500+ pieces Includes Gold Silver Diamond Watches Coins Necklaces Bracelets Rings Broaches Vintage jewellery Fine jewellery Costume jewellery Signed vintage pieces Collectables Also some stamps ALL jewellery boxes and packaging boxes pictured ARE included with this sale and are included in the item count (alot of people display with boxes but don't send them but every box u see here is included) I haven't been through everything maticulously so there may be items missed from my description but to give you a better idea of what's included I will include an itimised list of the main items as follows. 50cts 9ct gold wedding band 9ct diamond solitaire ring 9ct gold flower ring believe it to be cz Unknown metal(no hallmarks) white and blue stone ring 9ct gold thin bracelet Solid 9ct rose gold buren? Watch with rolled gold strap ticking!
Date letter k looks like 1865 or 1925 not sure which 9ct gold diamond and amethyst ring 9ct gold locket on 9ct gold chain 9ct gold amethyst ring 9ct gold light bracelet Unknown white metal versace? Bracelet 5 small diamonds in versace box 9ct gold chain 925 Silver belcher chain 9ct gold creole earrings 9ct gold hoop earrings 9ct gold aquamarine?
Brooch with red stones 22ct gold plated Stratton cufflinks 925 Silver chain with heart pendant and pearl? 800 silver flower brooch 9ct gold bracelet Silver butterfly brooch 925 geometric drop earrings Silver flower brooch 9ct Gold brooch with heart pendant and red stone Ruby? 800 silver snowflake brooch interesting hallmark /maker mark I can't make out 925 Silver earrings with clear stones 925 Silver long chain with pendant and green stone 9ct gold filled or plated not sure 10 year guarantee pocket watch with stunning rare chain/holder not sure if running 925 silver large belcher chain with large silver Cross with red stone 925 Silver gold bonded bracelet gold worn off Pretty 925 silver chain with silver ingot bar pendant 925 Silver chain with silver flower bar pendant 925 Silver chain with large cz pendant 925 Silver chain with silver pendant that has a spinning globe 925 Silver chain with white stone drop pendant 925 Silver heart angel earrings Silver Egyptian cat pendant 925 Large silver drop earrings 925 Silver tassle earrings 925 Silver fob with wearing gold plated sheild 925 Silver chain with large silver ying yang pendant 925 Silver medium earring hoops 925 Silver small earring hoops Unknown metal Old brooch with pink/red stones Unknown metal tie pin? Unknown metal brooch with large purple stone and seed pearls with safety chain Large unknown metal gold tone brooch with opening pendant signed Old unknown metal brooch with multicoloured stones Large brooch with Amber coloured stone Large silver coloured unknown metal numbered brooch with orange stone Large gold plated brooch with green stones 925 Silver dangle earrings Ciro of bond Street silver unknown metal cufflinks 925 Silver chain with silver pendant 22 ct gold plated merlin diamond cut cufflinks Heavy gold? Possibly plated curb chain bracelet with safety chain that is broken Ingersoll stopwatch with chain needs repair 925 Silver large purple Cross pendant with purple stones possibly amethyst Hallmarked silver cuff necklace Alpaca silver spoon set boxed Unknown metal gold tone large brooch with blue stone Pilgrim necklace Large disk 925 Silver bracelet Gold plated cameo brooch Gold plated bracelet with clear and red stones Large signed gold plated brooch Unknown mixed metal interesting bracelet Antique Solid silver teaspoon set in original box 925 Large silver curb chain Antique solid silver hallmarked trophy seedsman to the king interesting piece of history Gold plated vintage seiko watch boxed Vintage accurist watch boxed 800 silver teaspoon Boxed berndorf silver?
Spoon strange shape 3 x various antique glasses unknown metals various conditions 3 x antique glasses in their original boxes unknown metals various conditions very old 925 Silver Pandora ring with heart charm 925 Silver Pandora family charm Solid silver antique spoon very detailed and pretty Stunning unknown metal brooch with loop to become pendant A large amount of Costume jewellery and brooches including monet sphinx trifari Hollywood Sarah cov and more some brooches have numbers indicating they may be limited editions Solid silver albert fob fully hallmarked 925 Silver chain with ball pendant with Swarovski crystals 22ct gold plated Stratton tie clip 22ct gold plated merlin cufflinks diamond cut 22ct gold plated h. Samuel mother of pearl tie clip and cufflinks Unknown metal studio 5 diamond cut cufflinks. 41+ gold tone necklaces some may be plated rolled gold or actual Gold not sure haven't checked all for hallmarks Vintage 9ct gold plated piere cardin pearl necklace and earrings set new in box Watch and bracelet set Old Reichs banknotes Old coins Old stamps Old tin with old watches including Ingersoll and timex Some old buttons possibly some military ones White gold and diamond single earring studd Unknown metal cameo earrings 925 Silver bar drop earrings 925 Silver twist pearl earrings 925 Amber earrings 925 floral design stud earrings Miniature purse stamp holder?
925 Large silver ingot pendant and chain 925 Silver ingot pendant and chain 925 ID bracelet 925 bracelet Lovely wooden jewellery box with lots of 925 Silver rings pocket watch and more 925 diamond and maybe aquamarine pendant and chain marked dia and tested diamond 9ct rolled gold bangle 925 possibly garnet ring 925 Cross and chain 925 movable girl with stones and chain 925 gold plated mum T bar necklace 925 heart locket and chain few dents to locket 925 wedding band 925 ring with small stone 925 cameo brooch pendant Gold coloured unknown metal large cameo green 925 George coin ring Hand painted brooch signed Bagpipe brooch Pretty brooch signed Silver coloured stamp holder Silver coloured hat tie pin Silver coloured orange stone brooch 925 cameo black and pearlescent Large silver coloured brooch possibly silver Miracle stag brooch with green stone Gold coloured crystal brooch 2 stones missing not noticable 9ct rolled gold bangle 925 3 stone ring Alpaca silver butterfly brooch Crystal bracelet 925 blue stone fancy ring Gold coloured metal brooch Gold coloured crystal brooch missing couple of stones Jewelcraft gold coloured metal brooch locket opens up like a book and holds 4 photos has couple of missing stones Gold coloured crystal brooch Stratton comb damaged Crab gold coloured pin Gold coloured pin Lizard brooch 925 Silver green stone brooch Silver metal blue stone miracle brooch Silver coloured numbered brooch green stone Silver coloured brooch with pink stone 925 filigree brooch Unknown metal. The item "Rare watches & jewellery GOLD collectables job lot silver coin diamond antiques" is in sale since Monday, August 5, 2019. This item is in the category "Jewellery & Watches\Vintage & Antique Jewellery\Vintage Fine Jewellery\Unknown Period". The seller is "u-kno-u-want-it" and is located in Luton.
This item can be shipped to United Kingdom, United States.
Gold Quality: 9Carat
Metal: Yellow Gold
Main Gemstone: Diamond
Type: mixed