RARE MINT 1882 ITALY. 900 Gold 20 Lire Coin Pendant set on a 19 14K Gold Chain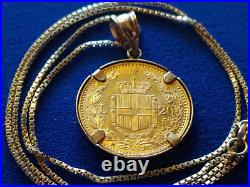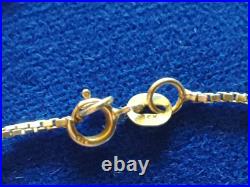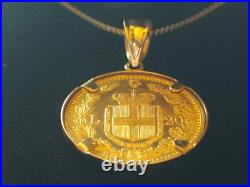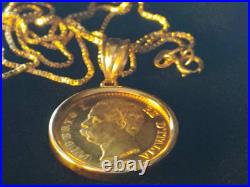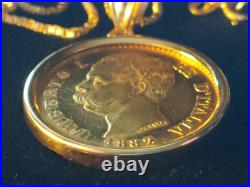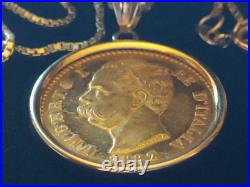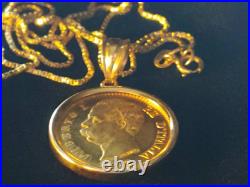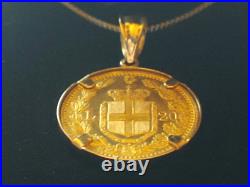 This is a heritage collection item originally recovered from Europe in the 1930's Texas college professors doing research. 900 Gold 20 Lire Coin Pendant set on a 19 14K Gold Chain.
Rare high-grade Uncirculated Gem Italian. 900 Gold 20 Lire Coin.
The 14K Bezel has an outside diameter of 22.2mm. The chain has an exact length of 19 that length includes the clasp. This handsome antique Gold coin was struck under the Italian monarchy of King Umberto I.
The Legend on the obverse side of the coin: Umberto I D'Italia Speranza. The handsome reverse of the coin shows the 20 lire denomination struck on either side of the Savoia crowned coat of arms that is decorated with the Collare dell' Annunziata. The coat of arms is encircled by a wreath of Laurel and Oak branches.
The coin was struck in pure. The coin bezel and the chain were cast in 14 karat plumb Gold.
By comparison, this coin Pendant is just a tad larger than a US Minted nickel. The coin pendant and chain have a combined weight of. There is a dark Royal Blue Velvet pendant gift box included with this sale.
Feel free to let us know if you have any questions of any kind. We are happy to help in any way! Carefully hand crafted to last! Hello To Australia & the United Kingdom. Chains shortened free upon request!
Best of Luck and thanks for looking. Lots of other jewelry and neat old coins for sale. Feel free to check out our other coins and coin jewelry.