Random Year $20 Liberty Double Eagle AU Gold Coin United States Mint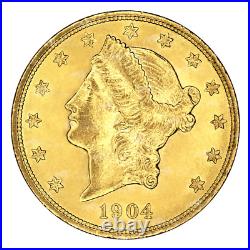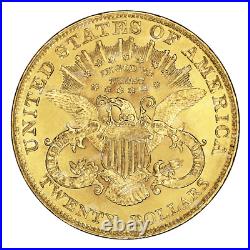 Containing 0.9675 troy ounces of pure gold, this highly coveted historical relic will be a welcomed addition to your holdings. Following the United States Coinage act of 1849, famed sculptor James B. This coin was pivotal to the United States' economic success from 1840 until it was replaced by the Saint Gaudens double eagle in 1907. Historical coins such as this are highly sought after due to their numismatic attributes.
#### ABOUT THE UNITED STATES MINT Established in 1792 as the first national mint in the United States, the United States Mint is a bureau of the Department of the Treasury responsible for official legal tender coinage production. Mint also produces commemorative coins for collectors, silver and gold bullion coins for investors (such as the popular Eagle and Buffalo series), as well as Congressional Medals. This product may come as an assortment or a batch of one single item. You may receive a product not shown on the image but individual weight, purity and face value are guaranteed.