Lady Diana Princess of Hearts Silver coin & Intial Swarvoski Diamond Faberge egg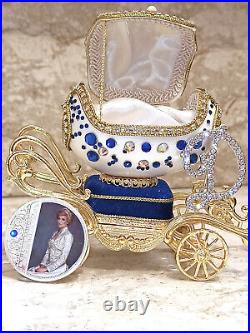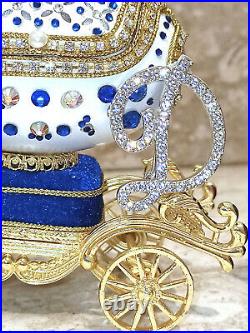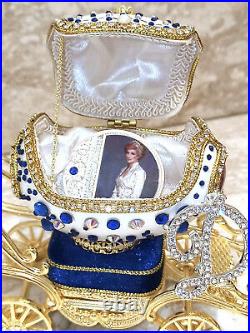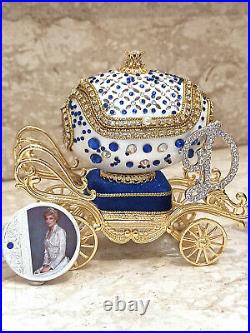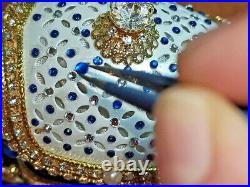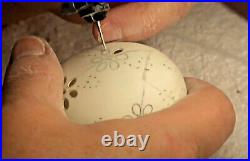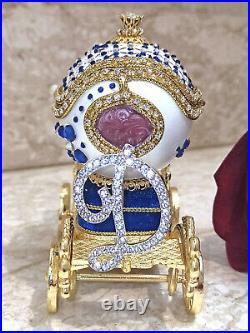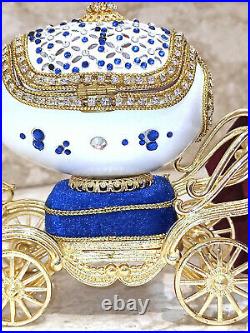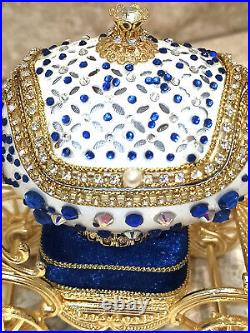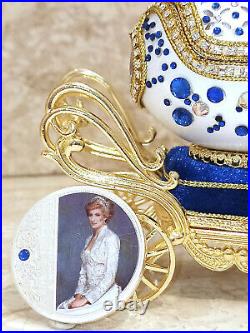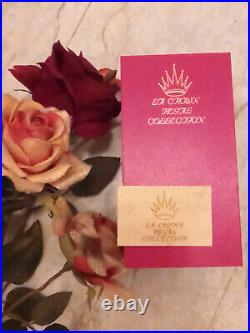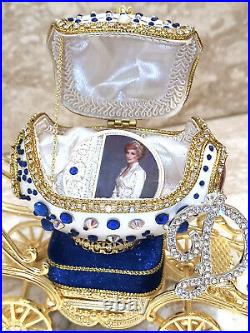 Luxury Antique Princess Diana Memorabilia Gift, Faberge Egg Music Box, Royal Diana Silver Coin Jewelry box, Faberge egg Trinket box, 24kt Gold. FABERGE Princess Diana Designer Silver Swarovski Initial Faberge Egg style MUSICAL Carriage & SILVER Coin Memoir OCCASION- Amazing Russian Faberge egg present for Fiance Wife Easter, Girlfriend, Valentine's day, Weddings Engagement, Anniversary, birthday, bridal showers, birthday's, GIFT for girlfriend Hen party, Christmas, Mother, Mum , Mom, Bride, Bridal shower party, Sister, Niece, Auntie, Godmother, God-daughter, daughter. Crown Regal Faberge egg Style 10carat Swarovski Diamond SApphire Carriage 180 Swarovski Diamonds 80 Sapphire Swarovski gems Faberge Authentic NATURAL HANDCARVED Goose Egg Hand embellished with 24K Gold Interior is hand Silk lined, making it an ideal place to store ones jewels Each egg is supported 24kt Gold metal decor carriage 13cm x 11cm x5cm (5.1"x4.4"x2") Swarovski Diamond SILVER Handmade "D Initial on Royal Carriage Solid Silver Lady Diana Spencer Coin Memoir?
Princess Diana Faberge egg 10ct Swarovski Royal Carriage 24k Gold MUSICAL TRINKET"Castle In the sky" Symbolising the hope, ambition and love for a better future that Lady Diana herself portrayed. Princess Diana, continues to be a worldwide symbol for love, strength, compassion charity fame and public admiration were definately unprecedented. Diana a true Queen of Hearts. Designer Faberge Natural eggs hand decorated eggs from Cyprus. Handcarved like the eggs of Russian Emperor Nicholas II. The story of ambition and incalculable riches of the new rulers of Russia and the oligarchs. Carl Faberge, a jeweller decorated his famous eggs with gems and precious metals at his St Petersburg workshop. Fabergé eggs, a lavish reminder of the dynasty's grand reign? Faberge Natural eggs for centuries symbolised fertility, wealth, love, happiness & luck. Crown Regal Collection, a reminder of your special occasion.
Great way to express your love to someone important in your life. Perfect gift for someone special!
Check out our handmade store. Musical trinket box gift for someone who has everything" Castle in the sky" Faberge egg Natural Handcarved jewellery box 24k Gold decor handmade Silver Swarovski Diamond initial "D" & Silver Diana COin Collectible Russian wedding egg hand decorated Faberge egg Hand-carved NATURAL egg Faberge style egg 180 Swarovski Diamonds 80 Sapphire Swarovski gems 10ct h are Hand decorated -Hand painted 24K Gold decor. Each real goose egg's interior is hand velour lined, making it an ideal place to store ones wedding rings Russian Wedding egg.
Each egg is supported 24kt Gold metal decor carriage -Faberge egg style carriage13cm x 11cm x5cm (5.1"x4.4"x2) -Matching 24k gold decor SAPPHIRE Swarovski bracelet and Faberge egg necklace - Designer Faberge style eggs hand carved and hand-decorated in Cyprus. 180 Swarovski Diamonds 80 Sapphire Swarovski gems 10ct. Luxury Faberge style Natural handcarved musical Russian trinkets Designer pierrelorren.
This item is in the category "Collectibles\Decorative Collectibles\Other Decorative Collectibles". The seller is "pierrelorren" and is located in this country: US. This item can be shipped worldwide.
Style: faberge
Primary Material: natural hand carved egg
Material: 24k Gold, SWarvoski diamond,Real egg
Original/Reproduction: Vintage Reproduction
lady diana: lady diana
princess diana: princess diana
royal family: royal family
diana memorabilia: diana memorabilia
diana spencer: diana spencer
birthday: birthday
Country/Region of Manufacture: Cyprus
fabrege: fabrege
anniversary: anniversary
Color: Blue
christmas gift: christmas gift
wife birthday: wife birthday
wife: wife
gift for mom: gift for mom
daughter: daughter
present for women: present for women
bday gift: bday gift
unique gift: unique gift
gift for her: gift for her
gift for women: gift for women
Brand: Faberge
xmas gift: xmas gift
faberge: faberge
faberge egg: faberge egg
faberge egg music box: faberge egg music box
faberge egg trinket box: faberge egg trinket box
russian faberge egg: russian faberge egg
Country/Region of Origin: Cyprus