Estate Junk Drawer Includes Gold Silver Antique Coins Jewelry And More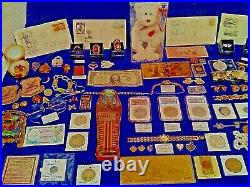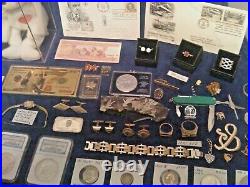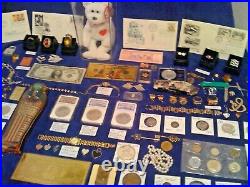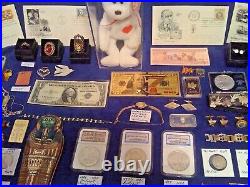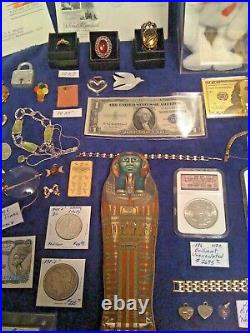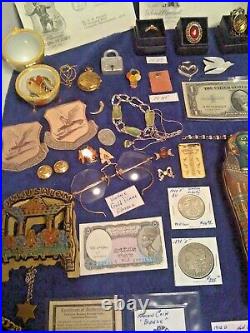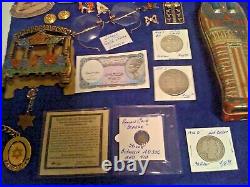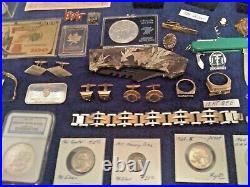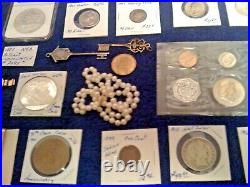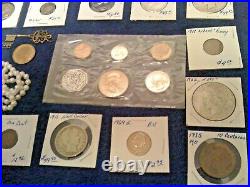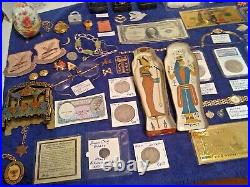 Estate Junk Drawer FINAL SALE All Items Are Presented As They Were Bought. These Items Have Not Been Tested, Other Than A Magnet. Some Of The Items Have Been Marked Or Stamped. Some Items May Have Broken Or Missing Parts. The Pictures Are The Full Description. The Attached List Is For High Lighted Items.
The List : 4 1st Day Issues: 1982 American Architecture: 1959 Ernest Reuter Mayor Of Berlin :1954 Dr. Robert Goddard Physicist Engineer : 1977 50th Anniversary Talking Pictures : Small Master Lock No Key: Heavy Jerusalem Piece Looks Like An Envelope Holder: Antique Amber Stone Ring Marked 10 kt : The Following Items Would Not Stick To A Magnet : Large Ruby Colored Ring : Silver Toned Heart : Gold Toned Horn : Pair Of Antique Earrings : Vintage Criss Cross Ring : Gold Toned Piece Marked Amy And Joey: Men's Heavy Bracelet : Additional Items. A Day Of Remembrance 1 Troy Ounce Of Silver ; President John F Kennedy November 22 1963 Inscribed On The Bar With The Presidents Face: Ladies Black And Clear Stoned Bracelet This Item Was Moved By The Magnet : Ben Franklin Gold. 925 Silver Ruby Toned Ring : 2005 American Silver Eagle 1 Troy Ounce Silver: 100 Mils Gold Clad.
999 1 Troy Ounce Bar : 1935 E One Dollar Silver Certificate : Hickok Tie Clip: Vintage Bulova 10 kt R. 23 Jewels Ladies Watch Not Running Antique Gold Framed Glasses : Metal Egyptian Decorated Trinket Container : Gold Toned Clock Pendant Would Not Stick To A Magnet : Pearl? Necklace Not Tested For Authenticity : Porcelain Decorated Egg With Charms And Necklace :Jerusalem Rotating Pendant One Side Star Of David Other Side Menorah: Ten Commandments Marked 1 Troy Ounce 100 Mils.
999 Fine Gold Clad Bar Ser # 333000333 : Roman Bronze Coin : Ladies Citizen Watch Face Resembles Mother Of Pearl - Not Running : Gold Foil. They Are The Most Respected Graders Of Coins In The World. The Coins Are As Follows : 1883 O Morgan Dollar Graded Brilliant Uncirculated : 1887 Morgan Dollar Graded Brilliant Uncirculated : 1886 Morgan Dollar Morgan Dollar Graded Brilliant Uncirculated : The 2021 Edition Of The Official Red Book Of United States Coins By R. Yeoman, Jeff Garrett, David Bowers, Places A Value Of These Coins Up To 3K A Piece With The 1883 O Being Valued Up To 100K. The Center Piece Of This Package Is The Ty Beanie Valentino Bear. This Item Is In Mint Condition And Has Been In A Non-Smoking Environment And Cased And Tagged Since 1994. The Value Of These Items Seems To Be The More Errors And Unusual Markings The More Valuable It Becomes : The Errors And Unusual Markings On This One Are As Follows : On The Swing Tag (The Tag At The Head) The Word " Original " is Misspelled With Two I'S "ORIGIINAL". The Swing Tag Has Semicolon After Date Of Birth Instead Of Coma Feb 14 1994. This Tag Also Says Suface Wash : Should Be Surface Wash. This Item Has Black Eyes And Brown Nose.
The Swing Tag Has DOB As Feb. The Tush Tag Says 1993. This Item Has PVC Pellets. The 1965 (KR) Mark Indicates This Item Was Part Of The Korean Market And Not Massed Produced.
The Inside Of The Tush Tag Has No Red Stamp. There Is A Red Star On The Tush Tag. There Is R In A Circle On The Tush Tag And TM On The Tush Tag. This Concludes The Highlighted Items.
Thanks For The Look And. AND ONE MORE TIME THIS SALE IS FINAL. 07/16/21 Update : Thanks For The Many Looks And Offers, To Date. The Highest Offer On This Package. The item "Estate Junk Drawer Includes Gold Silver Antique Coins Jewelry And More" is in sale since Thursday, June 24, 2021. This item is in the category "Collectibles\Wholesale Lots\Other Collectible Lots".
The seller is "modularhome4u" and is located in Coxs Creek, Kentucky. This item can be shipped to United States.
Featured Refinements: Junk Drawer Silver