Armor of God Cold-Cast Bronze Sculpture with Two-Sided 24K Gold-Plated Coin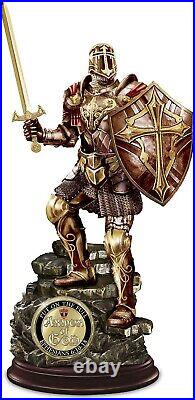 Handcrafted in cold-cast bronze and hand-painted with golden highlights, each sculpture in this collection captures a powerful knight and makes a stunning religious collectible. Each knight wears intricately detailed, biblically-inspired armor and stands ready for battle atop a rugged, stone-look base. A two-sided removable Challenge Coin plated in 24K gold and enhanced with hand-applied enamel accompanies each knight.
Uniting powerful inspiration with museum-quality craftsmanship, these cold-cast bronze sculptures make an empowering addition to any religious home. Editions are limited to 295 crafting days, so order now! Hand-numbered with matching Certificates of Authenticity.
Sculptures measure approximately 12" H; 30.5 cm H; removable Challenge Coins measure 2" in diameter; 5.1 cm in diameter.