1 oz 2023 Celebrate Love Gilded Silver Coin Royal Canadian Mint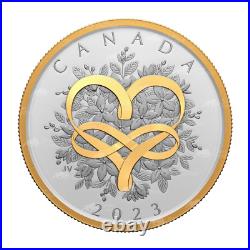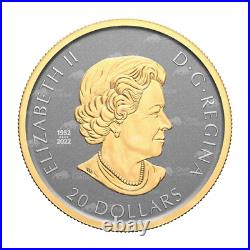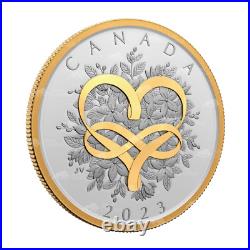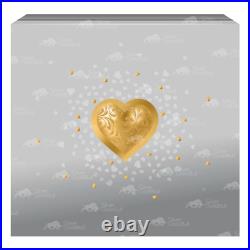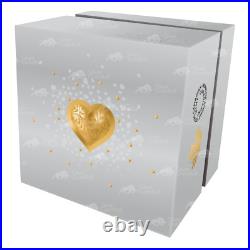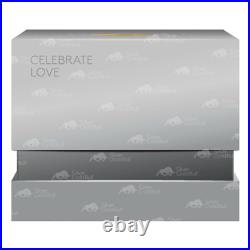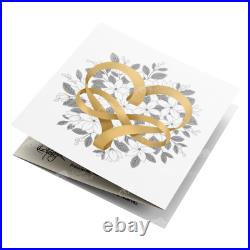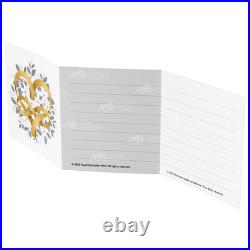 4+ tube of Silver Coins. Celebrate love in all its forms with this everlasting keepsake.
Love is a precious gift that takes many shapes in our lives, whether it's the grounding love between family members and friends; the unbreakable bond of parent and child; the pulse-quickening affection of lovers; the deep devotion that is nurtured through understanding, respect and trust; or even the self-love that is the foundation for all of these relationships. Love in all its forms is worth celebrating, and this 99.99% pure silver keepsake is a heartfelt expression of your feelings and gratitude for someone special. Through its everlasting bouquet of jasmine flowers and infinity heart, the coin's reverse expresses the joys of being connected to someone, and of being part of something bigger than yourself.
That sentiment is amplified by yellow gold plating, which invites you to let love shine bright by showing you care. Give the gift of an everlasting expression of love. SPECIAL FEATURES Celebrate love in all its forms. Friendship, familial, romantic and more-celebrate the love that surrounds you with this everlasting expression of appreciation and affection. Crafted in 99.99% pure silver and packaged in an elegant gift-ready box, this love keepsake is the perfect way to show someone you care-today and every day. A meaningful gift for celebrating milestones and moments together, or to mark a special occasion such as a wedding, engagement, birthday, anniversary, Valentine's Day, Mother's Day, and more! Only 10,000 are available to collectors worldwide. (if applicable) SELECTIVE GOLD PLATING Thanks to yellow gold plating, love shines extra bright on this coin! The luxurious gold accent highlights the infinity heart on the reverse, the effigy on the obverse, and the rim that frames the engraving on both sides. SPECIALLY DESIGNED CERTIFICATE Includes a specially designed certificate in full-colour with space to add your own personalized message. Known for its intoxicatingly sweet fragrance, the jasmine carries special significance in various parts of the world. Regarded as a symbol of beauty, love, affection, purity or even good luck by many cultures, it is present in special celebrations in some countries, and even considered a symbol of motherhood in others. Just like the rose, a jasmine's colour has a different meaning: yellow for elegance, white for purity and sensuality, pink for affection, red for passion, blue for honesty and purple for inspiration. DESIGN & ARTIST The reverse design by Canadian artist Jori van der Linde is an expression of love that transcends romance.
The feelings and thoughts associated with love are represented by the bouquet of jasmine flowers, which are widely regarded as a precious symbol of beauty, love affection, purity or good luck. Enhanced with gold plating, a ribbon weaves its way through the flowers to form an intricate infinity heart that represents unity and an unending bond.
The word "CANADA" and the year "2023" are also engraved on the reverse. The obverse features the gold-plated effigy of Queen Elizabeth II by Susanna Blunt. The obverse also bears a special marking that includes four pearls symbolizing the four effigies that have graced Canadian coins and the double date of her reign.
Love transcends what is simply the definition of the relationship between two people. This coin is inclusive in its recognition and celebration of all forms of love, regardless of relationship status.
MINKA SINGH, PRODUCT MANAGER PACKAGING Each coin comes encapsulated and nestled in a sophisticated presentation box for easy and elegant gift giving. ABOUT THE ROYAL CANADIAN MINT The Royal Canadian Mint is known as one of the most reputable mints in the world. The Ottawa Branch of the Royal Mint opened in 1908 and was renamed The Royal Canadian Mint in 1931 when control was transferred to the Canadian government. The Royal Canadian Mint is renowned for producing some of the highest quality and purity of gold and silver bullion coins and bars in the world.
Their high standards for excellence and quality allowed them to be the first refinery to manufacture 9999 fine gold bullion coins in 1982, as well as the first to reach 99999 fine gold purity in 1999. We may request for photo identification and other documentation before we confirm your order and begin packaging the item. This item is in the category "Coins & Paper Money\Bullion\Silver\Coins".
The seller is "silvergoldbullusa" and is located in this country: US. This item can be shipped to United States.
Bullion Or Collectible: Collectible
SKU: 9057
Year: 2023
Country: Canada
Mintage: 10000
Purity: 9999
Legal Tender: CAD 20
Total Weight (ozt): 1.0000
Metal Weight (ozt): 1.0000
Manufacturer: Royal Canadian Mint
Certification: Uncertified
Fineness: 0.9999