1 oz 2022 Black and Gold The Sea Otter Silver Coin Royal Canadian Mint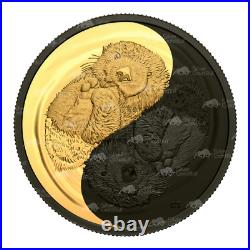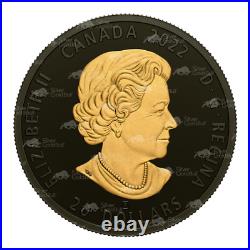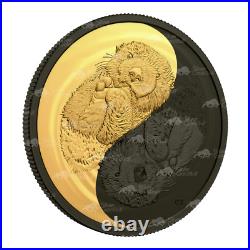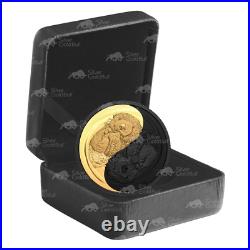 4+ tube of Silver Coins. Yours to own: A sea otter portrait that strikes a balance between gold and black rhodium plating.
The third Black and Gold coin! One of the things nature does best is balance, and the sea otter is the perfect example: this adorable creature works hard, but it also makes time to float arm-in-arm (or paw-in-paw) with a loved one.
Once hunted to the point of extinction, the sea otter has been reintroduced to British Columbia's coastal waters, where its appetite keeps sea urchin populations in check-this, in turn, helps to restore and protect the kelp forests that are a critical habitat for hundreds of species. It's all about balance, which is beautifully represented on this coin's dual-plated reverse. Own this gold and black rhodium-plated portrait of the lovable sea otter. This is coin #3 in the popular Black and Gold design of 99.99% pure silver coins that offer new perspectives on Canadian wildlife. Beneath the gold and black rhodium plating, your coin has a 99.99% pure silver core. The Royal Canadian Mint certifies all of its collector coins. PACKAGING These coins are encapsulated and presented in a Royal Canadian Mint-branded clamshell with a black beauty box. DYNAMIC DESIGN Like 2020's The Canadian Horse and 2021's The Grey Wolf, this coin's reverse design is inspired by the yin yang symbol. No matter which way you view the design, you'll always get a full glimpse of an adorable sea otter floating on its back.
YELLOW GOLD AND BLACK RHODIUM Yellow gold and black rhodium plating divide this coin's design into two opposing but complementary elements. It is an inspiring representation of an industrious yet playful Canadian species, one that was hunted to extinction but is now mounting a comeback after its reintroduction to the coast of British Columbia. MATTE PROOF FINISH Just like previous Black and Gold coins, the black rhodium-plated portion of the reverse design features a matte gunmetal finish that strikes a dramatic contrast next to the yellow gold. It's our way of playing with light and shadows to bring out details that are otherwise unseen in the other half of the design (and vice versa).
Sea otters love to float on their backs while resting and eating! They'll hold hands or wrap themselves in kelp to keep from drifting away while sleeping. Without sea otters, herds of sea urchins are known to destroy kelp forests at a rate of 9 metres per month. Kelp forests provide a critical habitat for over 150 different species and ample prey for the sea otter, which needs to eat about 25 percent of its body weight daily. But its recovery on the B.
Coast has had some unintended consequences, too: its voracious appetite has negatively impacted Indigenous coastal communities and fishers who have traditionally relied on shellfish harvesting. DESIGN & ARTIST The circular reverse design by wildlife artist Claude Thivierge features a contrasting "yin and yang" portrait of the sea otter (Enhydra lutris). Two adult sea otters are positioned in a way that represents opposite but complementary concepts, such as work and rest/play. Yellow gold and black rhodium plating clearly divide the design into two halves in order to highlight the importance of achieving balance in life, but also in nature, where the sea otter's reintroduction to Canada's Pacific coast has had a big impact on the marine ecosystem.
The obverse features the gold-plated effigy of Her Majesty Queen Elizabeth II by Susanna Blunt. For yin yang, this otter is ideal because it can be playful, dynamic and calm at the same time.
I wanted the artwork to reflect this energy. I want it to be dynamic with movement and a certain tenderness and beauty in her eyes and her endearing friendly way. It also gives us the impression that the otter is lying down, floating on its back, which is the case because it spends a lot of time in this position resting, eating, sleeping and grooming. CLAUDE THIVIERGE, ARTIST ABOUT THE ROYAL CANADIAN MINT The Royal Canadian Mint is known as one of the most reputable mints in the world.
The Ottawa Branch of the Royal Mint opened in 1908 and was renamed The Royal Canadian Mint in 1931 when control was transferred to the Canadian government. The Royal Canadian Mint is renowned for producing some of the highest quality and purity of gold and silver bullion coins and bars in the world. Their high standards for excellence and quality allowed them to be the first refinery to manufacture 9999 fine gold bullion coins in 1982, as well as the first to reach 99999 fine gold purity in 1999. We may request for photo identification and other documentation before we confirm your order and begin packaging the item.
This item is in the category "Coins & Paper Money\Bullion\Silver\Coins". The seller is "silvergoldbullusa" and is located in this country: US. This item can be shipped to United States.
Bullion Or Collectible: Collectible
SKU: 8697
Year: 2022
Country: Canada
Mintage: 6500
Purity: 9999
Legal Tender: CAD 20
Total Weight (ozt): 1.0000
Metal Weight (ozt): 1.0000
Manufacturer: Royal Canadian Mint
Certification: Uncertified
Fineness: 0.9999